Education
The centerpiece of the Friends' mission is the Forest Education Program. This multi-layered program strives to connect Fidalgo Island residents of all ages with their community forest lands. We believe that the long term health and preservation of our forest depends on the strength of this connection.
All of our education activities help guide participants to a deeper understanding of what is present in the woods. From adult field seminars to youth day camp we provide ample opportunity for you to get to know your forest.
Watershed Discovery
Watershed Discovery is a class and field program for all seventh grade students in the District. Students learn about their home watershed through a series of class activities, writing assignments, and comparative field trips.
Our new comprehensive 3rd grade native plant and mapping program includes classes and field trips with all 3rd grade students in the Anacortes School District. There are Fall, Winter, and Spring units during which students gain familiarity with Fidalgo Island native plants and habitats, and an understanding of the importance of native plants to our island ecology.
K-6 Field Trips
Our school program is conducted in cooperation with the Anacortes School District. K-6 Field Trips to the ACFL are scheduled with interested teachers in the Fall and Spring. Class themes are often built upon to provide an expanded learning experience for the students. Age appropriate lessons are conveyed through games and hands on activities.
High School Projects
Forest Naturalist consultation for environmental science students and senior cumulative projects occur each year.
Adult Forest Education is the focus of the Friends' all-ages hikes and senior hikes. We help adults and families enrich their forest experience by learning about the plants and animals and their relationships with each other and the land. All Ages Hikes are conducted in all seasons but Winter. Look to our calendar for the next date that works for you. These hikes are fun for the whole family, or all by yourself. Senior/Adult Hikes happen once a month, usually on the second Friday morning. These hikes are usually 1-2 miles long over gentle terrain. Adult field seminars occur once or twice a year. Look to these for a chance to spend a day in the woods with an intense thematic focus.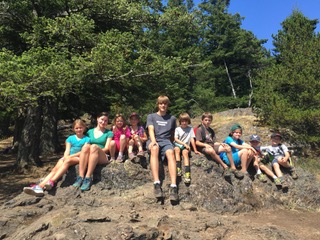 Forest Discovery Day Camp
Forest Discovery Day Camp is held during Summer. There are four sessions and each session lasts for three days. Kids ages 7-12 have a blast exploring our forest with a small group of friends and the safety of two adult leaders. They learn about native animals, edible plants, different habitats, and the expanse of their own capacity for observation.

Our community based programming is supported by the City of Anacortes, The Anacortes School District, private grants, membership, and our Annual Benefit Event. All of our programs are free. Please contact our staff (info@friendsoftheacfl.org or 360-293-3725) with any questions. To find out more about how you can help support this program, please check out our How to Help (Membership and Activities and pages)